---
Dorner's world-class food handling and processing conveyors are highly sanitary and built to operate at high speeds. These conveyors have earned a stellar track record in helping businesses maximize their efficiency and productivity levels in achieving their full potential.
If your business requires a custom conveyor belt for food processing, Dorner is uniquely positioned to develop specially made systems that meet our customers' vision for enhanced workflow.
Benefits of Dorner's Food Handling and Processing Sanitary Conveyors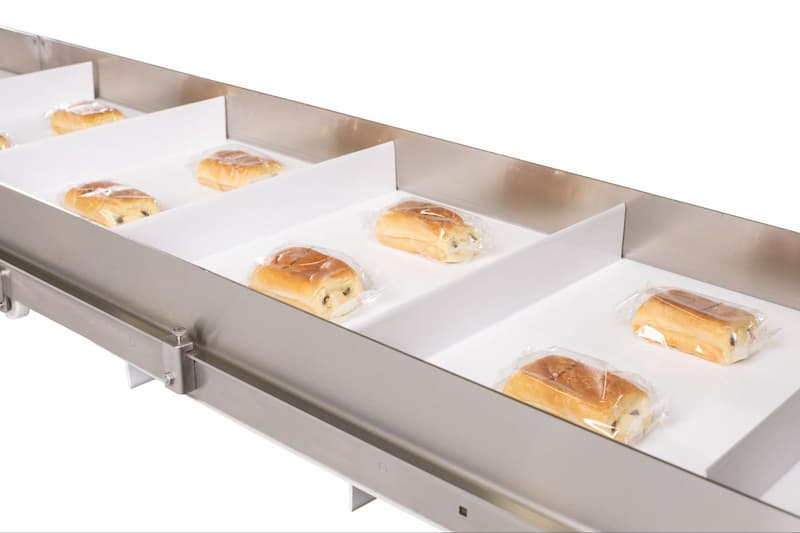 Dorner's food grade conveyors feature several benefits that make them ideal for the food processing industry. With sanitary conveyors from Dorner, your food manufacturing process benefits from the following:
High Sanitary Standards
Each sanitary conveyor from Dorner is built with a low profile and open frame construction, allowing for easy access to the belt surface and interior components for fast and effective sanitation – capable of 2x faster sanitation that what is offered by our competitors!
Our food conveyor systems have three sanitary levels that can be configured to your specific application. With hygienic designs, our conveyor systems have less to clean, making your work easier, cleaner, and more efficient.
Conveyor Belt Food Safety Commitment
As a leader of food industry conveyor belt suppliers, we are committed to providing our customers with conveyor equipment that uphold high food hygiene standards and improve your OEE. We have a five-step approach to serving your industry and promoting food safety, including:
Hygienic Design
Ease of Sanitation
Effective Sanitation
Ease of Disassembly
Operator Safety
Read more about Dorner's commitment to food safety here
Custom Solutions for Unique Systems
Our team understands that every manufacturing process and application is unique. That's why we specialize in custom designed solutions that are tailored to your needs, limitations, and precise specifications. Whether you are transporting fresh produce or packaging meat products, we can deliver a high quality conveyor system that meets your exact requirements.
Dorner Food Conveyor Belts Provide Safety Beyond Your Products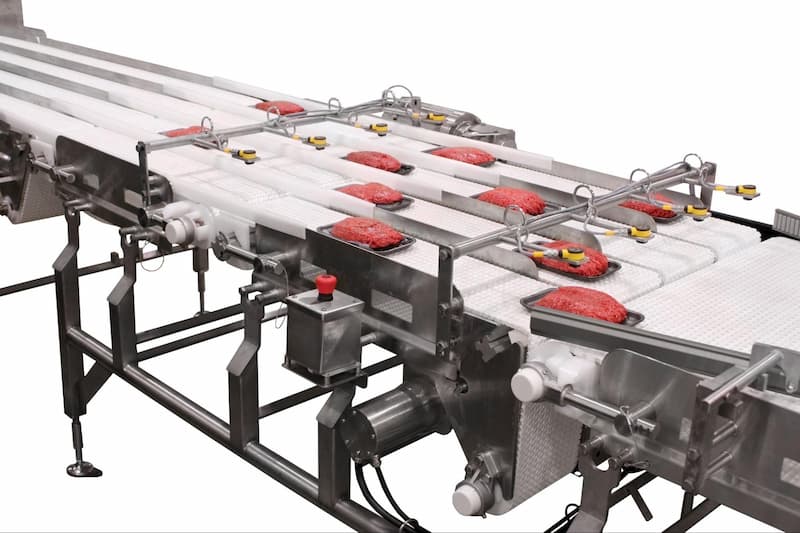 Dorner's food processing conveyors are designed to meet industry standards and regulations as well as operator safety standards, including:
BISSC (Baking Industry Sanitation Standards Committee)
FDA (U.S. Food and Drug Administration)
NSF (National Sanitation Foundation)
USDA (United States Department of Agriculture)
RoHS (Restriction of Hazardous Substances)
CE (Conformité Européenne)
OSHA (Occupational Safety and Health Administration)
ANSI (American National Standards Institute)
Sanitary Food Conveyors Applications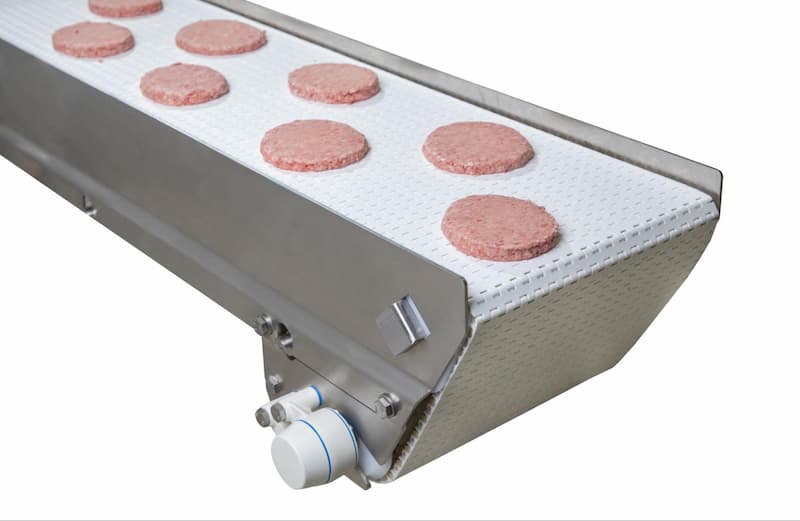 At Dorner, we believe food safety is paramount. We understand the concerns and challenges facing teams in the food handling industry. Whether your food needs are in bakery and confectionary; dairy and cheese; ready-to-eat foods; meat, poultry, and seafood; fruits and vegetables; or any other foods, our AquaPruf Series conveying system can meet your needs.
Accumulation & Cooling
For maximum efficiency, our sanitary conveyors can be utilized in accumulation and cooling applications for a range of food products, allowing you to safely maintain production while gathering finished products (like baked goods or ready-to-eat meals) for the next stage of production. Promote efficient, equal cooling with precision conveyance solutions.
Inspection & Metal Detection
Automated food conveyor belts can help optimize the inspection process during food production, allowing operators to thoroughly assess products as they move down the line to identify abnormalities or issues and address them quickly without disrupting workflow.
Washing & Sorting
The right sanitary conveyor makes washing and sorting certain products, like fresh produce, a breeze. Designed for easy cleaning, our AquaPruf conveyors can safely and effectively endure the washing and sorting process without compromising your product's quality or risking damage to the conveyor system.
Packaging
As with any industry, our food processing conveyors are well-suited for packaging applications. Whether you are packaging delicate fruits, raw meats, or baked goods, our conveyor systems will help keep your process running smoothly. With Dorner's food grade conveyors, you can move packages with accuracy and minimize product waste while keeping up with the demands of a busy manufacturing environment.
Conveyors for Food Processing in Every Category
Dorner has the perfect sanitary conveyor system for your food manufacturing or handling facility, no matter what you work with. From in-feed and out-feed applications to cooling and inspection solutions, our reliable food grade conveyors will help you get the job done quickly, efficiently, and safely in any category.
Streamline the process of producing and packaging sweets with a food processing solution from Dorner. Our systems are perfect for spreading out items to bake or cool, grouping products for packaging, and more. We have created custom solutions for food suppliers working with a range of products including:
Bread
Cookies
Pies
Chocolates
Gum
And more!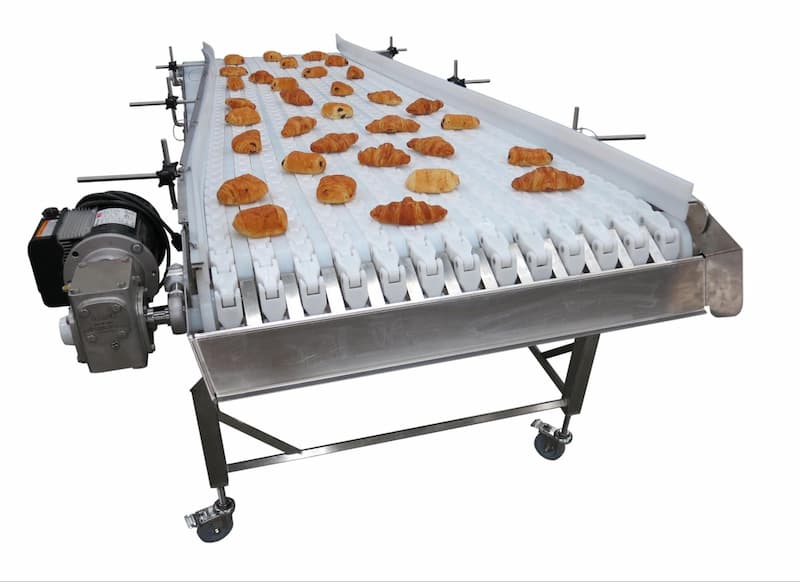 Dorner conveyors are a great choice for dairy and cheese processing. Our reliable systems can be custom engineered to suit your specific processes with less downtime and higher standards of cleanliness.
Whether you are working with blocks of cheese, individual slices, or other dairy products, our conveyor belts for food manufacturers can help move your product down the line with accuracy and minimal damage. 
With sanitary conveyors for meat, poultry, and seafood processing from Dorner, you can move your product quickly and safely with minimal disruption. Sanitizing your belts is immensely important when processing and handling raw meats.
We have engineered systems that meet USDA regulations for red meat and poultry to prevent the growth of bacteria, eliminating the risk of contamination and keeping your consumers safe.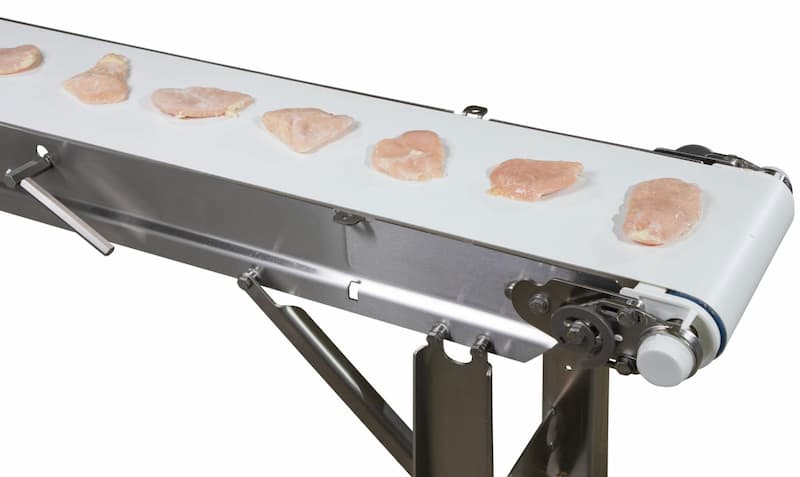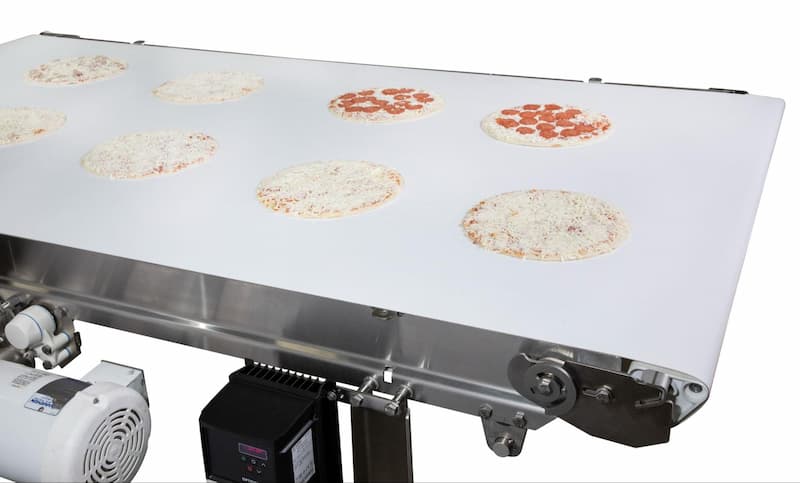 Producing ready-to-eat meals requires precision timing and careful handling of ingredients. Dorner's food grade conveyors can help you achieve the results you need with safety and accuracy. Our systems are perfect for gathering products from multiple sources and combining them in a timely manner, as well as packaging finished meals for distribution.
Produce is a delicate product that requires careful handling to avoid damage and maintain freshness. Our top-quality food conveyors are designed with both efficiency and precision in mind, allowing operators to easily move fruits, vegetables, and other produce down the line without worrying about bruising or contamination.
With Dorner's produce conveyors, you can quickly inspect the product, sort it for distribution, and package as necessary with greater efficiency and accuracy.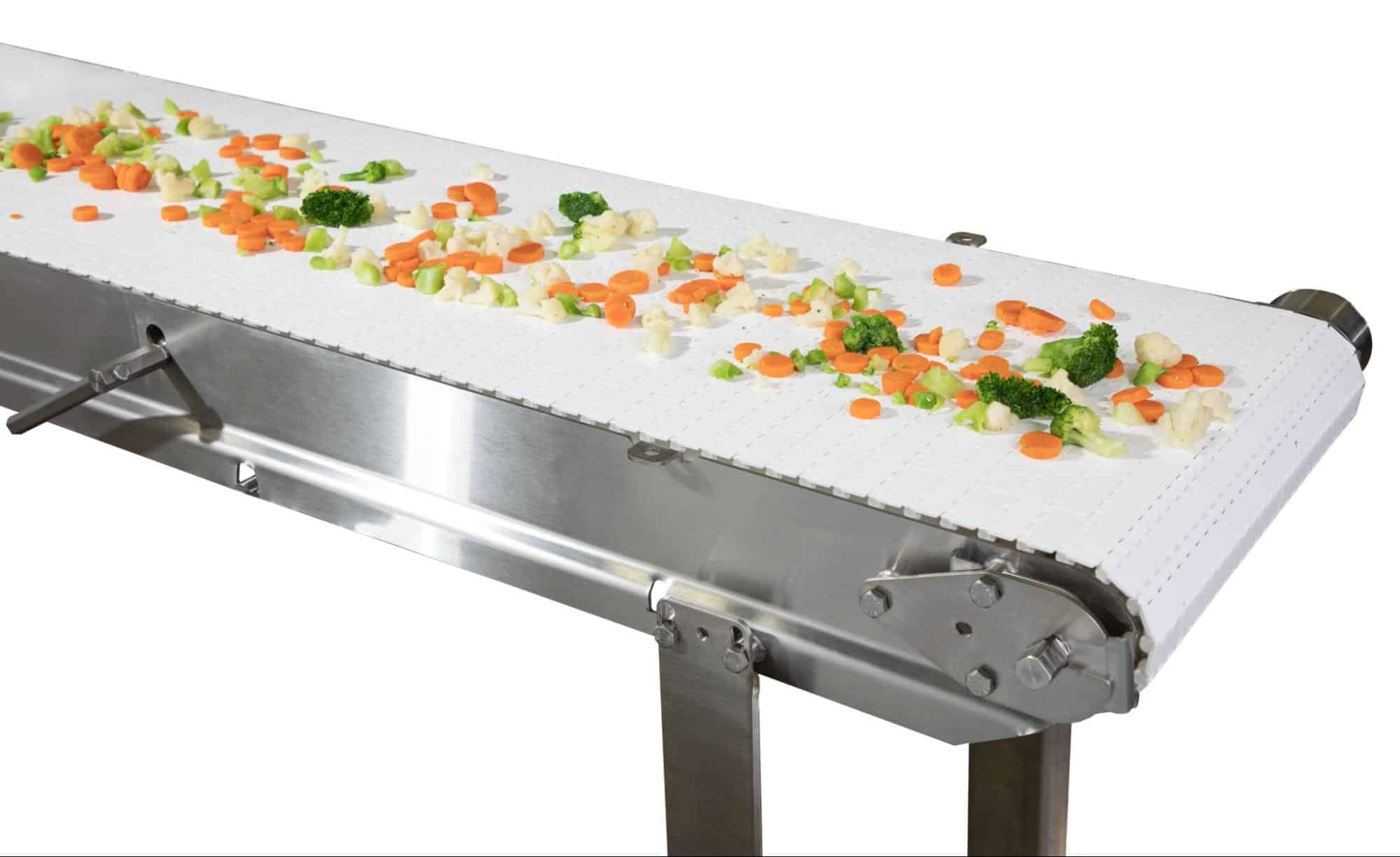 See Dorner's Conveyors for Food Processing and Handling in Action
Dorner's Stainless Steel and Sanitary Conveyors, also known as our AquaGard and AquaPruf platforms, are designed for fast and effective sanitation while offering protection from contamination.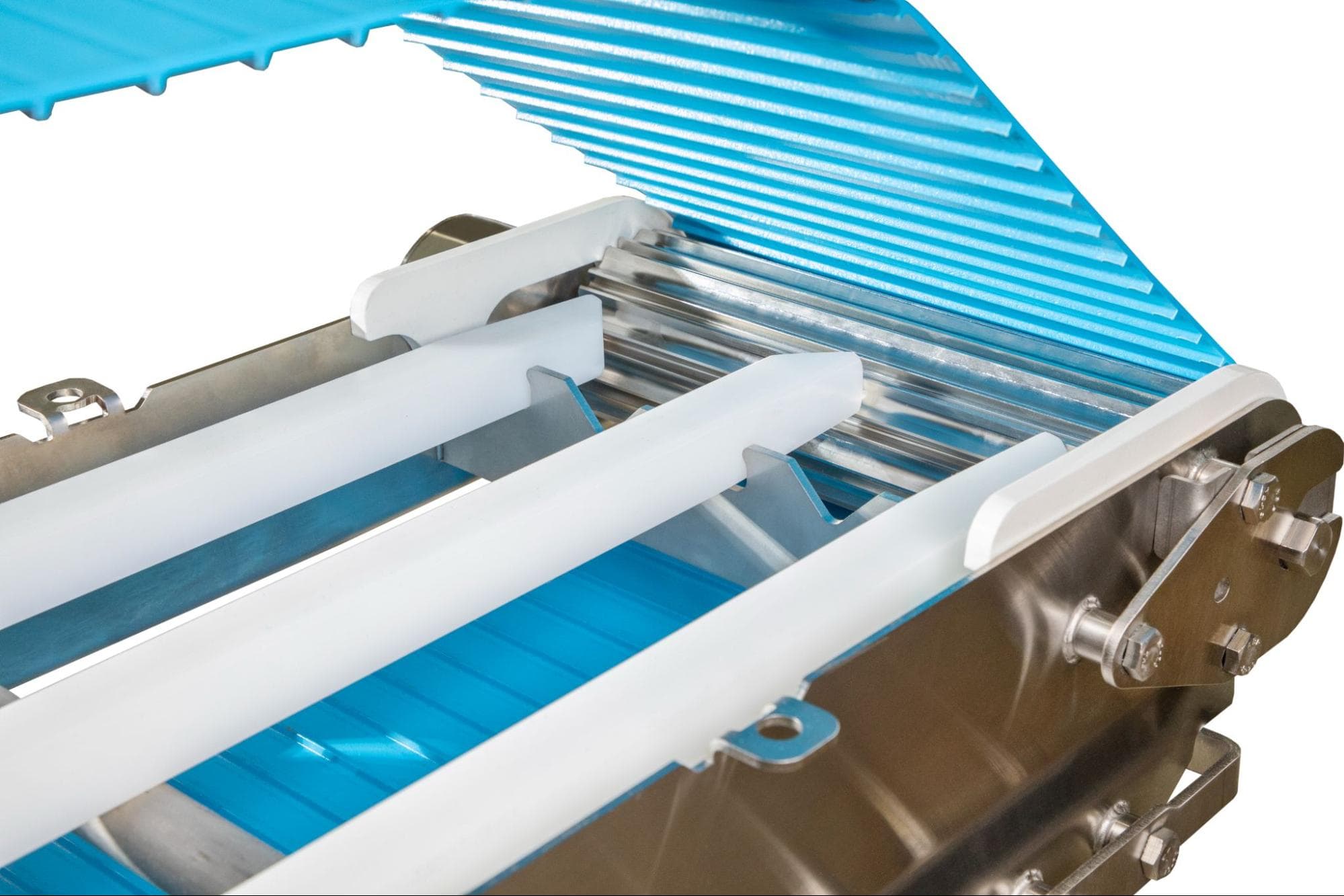 Custom Material Handling Equipment for Food
When your business needs a specially made solution, you can count on Dorner! As a leading-edge commercial food processing equipment manufacturer, Dorner is known for creating custom food processing services and equipment for our customers
Our custom food handling equipment is designed by our talented, full-service Engineered Solutions Group. Our team can modify a standard solution to meet your business' needs or collaborate with you to build a wholly custom system.
Our Engineered Solutions Group will work with your team from concept to completion. Our custom food processing equipment design process includes needs analysis, CAD modeling, mechanical design and other services.
Dorner can provide the following food conveyor accessory add-ons for your custom food processing solution: 
Dorner's AquaPruf Industrial Food Grade Conveyors Boast Innovative Design
Dorner's AquaPruf Food Handling Conveyor Series has been engineered to promote fast and effective sanitation, from wipe down to daily high-pressure washdown with chlorinated cleaners.
Less Worry About Your Product Quality
The AquaPruf sanitary conveyor has a unique design that promotes optimal hygiene and food safety with the following features: 
Confidence in Your Food Handling Equipment
We designed our AquaPruf stainless steel conveyors to meet or exceed food industry standards for equipment safety. Because of our commitment to safety and cleanliness in our food handling conveyors, you can have confidence in our products, which include:
Built for Demanding Environments
Our AquaPruf Ultimate Conveyors have been designed for fast and effective sanitation in the most-demanding environments. These environments generally involve high-pressure sanitation requirements and include dairy and cheese, ready-to-eat foods and/or meat, poultry and seafood products.
AquaPruf Ultimate Conveyor Benefit Highlights
Food Conveyor Belt Installation Services
Dorner is recognized as a leading conveyor manufacturer and also a top food handling and processing conveyor installation company. Our experienced engineering team can visit your facility to ensure your equipment is set up so that it performs at peak capacities. Our food handling and processing conveyor installation service is comprehensive, encompassing delivery, staging, setup and training on your equipment.
If you plan to manage installation internally or work with another contractor, we can send a certified Dorner service team member to act as an on-site supervisor. 
Commercial Food Processing Equipment Services for Dorner Conveyors
Ensure your operation meets food safety requirements as well as your production needs with the right equipment from Dorner. We offer training and maintenance services to help you maximize the lifetime of your custom food processing solution and provide you with the resources you need to keep your operation running smoothly. 
Training can help reduce downtime and increase your team's safety, efficiency and productivity levels. Dorner's expert field services team delivers on-site training in safety, maintenance, troubleshooting and other areas.
Our food industry conveyor systems training can be conducted in groups or with just a single team member. Our training can be held during or after conveyor installation. Your team will also have 24/7 access to first-rate online resources such as videos and guides. 
Dorner offers a food handling and processing conveyor maintenance program that involves only labor or labor and parts. Our service starts with an on-site evaluation of your facility's food handling and processing conveyor(s). Once we assess your needs, we'll produce a custom plan with our recommended service intervals.
Dorner's food handling and processing conveyor maintenance program covers a wide range of tasks, from inspection and adjustments to debris removal and lubrication. If your business is on Dorner's labor and parts plan, you will also receive a 10 percent discount on parts. 
Dorner's Food Handling & Processing Conveyors
Increase productivity, reduce waste, and create a safer workplace for workers with a Dorner conveyor system. We offer a range of customizable solutions to maximize your available space, improve the efficiency of your operation, and enhance the hygienic standards of your facility.
Stainless Steel Food Conveyor
We maintain the highest standards of quality and cleanliness with the use of stainless steal frames, compatible with a number of hygienic belts, designed for easy cleaning and optimal performance.
Space Saving Food Handling Equipment
Navigate around obstacles and corners without disrupting the flow of food production with a 90 degree food grade conveyor or a food grade Z conveyor for maximum space efficiency.
If you have available vertical space, a stainless steel helix conveyor or vertical bucket conveyor can be useful, allowing you to take advantage of the area you already have when transporting food products between processing stages. 
Customized Food Processing Solutions from Dorner
When working with commercial grade food processing equipment, customization is often essential for success. Dorner can help you find the right custom solution for your food handling and processing needs, from complete conveyor systems to individual components.
Whether you need a more off-the-shelf or totally custom solution, Dorner can provide the food and beverage conveyor systems to keep your business running smoothly. With our broad range of custom options, you can rest assured that your food processing conveyors will be designed to provide maximum efficiency and productivity while also upholding the highest standards of food safety.